Lässt sich der Citrix IMA Dienst nicht mehr starten, können keine eingehende Verbindung zum Citrix Server mehr initiiert werden. Versucht man den IMA Dienst zu starten und erhält folgende Fehlermeldung:
Windows could not start Citrix Independent Management Architecture on Local Computer. For more information, review the System Event Log. If this is a non-Microsoft service, contact the service vendor, and refer to service-specific error code –2147483647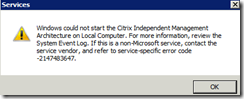 Opening the Event Viewer of the affected server shows this event on the System Log:</p>

"Failed to load plugin C:\Prgoram Files (x86)\Citrix\System32\Citrix\IMA\Subsystems\RADESessionsSs.dll with error IMA_RESULT_FAILURE"</code>

 

 

In den meisten Fällen ist die lokale Streaming Offline Datenbank korrupt. Dies lässt sich meist durch den Befehl dsmaint recreaterade beheben.

Lässt sich der IMA Dienst immer noch nicht starten, sind wahrscheinlich die Verbindungseinstellungen im File C:\Program Files (x86)\Citrix\Independent Management Architecture\RadeOffline.dsn korrupt:

Fehlerhafte Konfiguration:

Diese muss durch eine gültige Konfiguration ersetzt werden:

Nun ist es noch notwendig die Streaming Offline Datenbank neu zu erstellen:

dsmaint recreaterade

Der Citrix IMA Dienst sollte sich jetzt normal starten lassen.

 

Grüße
dn

This post has been migrated from our earlier blog based on BlogEngine.NET.