Ein schneller Tipp für Hybrid-Admins ;)
Beim ausführen des Hybrid Configuration Wizard auf einem Exchange 2010 Server tritt folgender Fehler auf:
Fehler beim Aktualisieren der Hybridkonfiguration: 'System.Management.Automation.Remoting.PSRemotingTransportException: Beim Ausführen von Daten vom Remoteserver ist folgender Fehler aufgetreten: [ClientAccessServer=DB3PR05CAXXX,BackEndServer=db3pr05mbXXX.eurprd05.prod.outlook.com, RequestId=ce4f8474-2bcc-4b3b-b4e4-5089f60f2372,TimeStamp=2/11/2014 10:11:28 AM] The request for the Windows Remote Shell with ShellId FC244D6B-C78E-4605-B7E1-91A480CD914B failed because the shell was not found on the server. Possible causes are: the specified ShellId is incorrect or the shell no longer exists on the server. Provide the correct ShellId or create a new shell and retry the operation. Weitere Informationen finden Sie im Hilfethema "about_Remote_Troubleshooting".</p>

Weitere Informationen zur Fehlerbehebung finden Sie in der Protokolldatei "Update-HybridConfiguration" unter C:\Program Files\Microsoft\Exchange Server\V14\Logging\Update-HybridConfiguration\HybridConfiguration_2_11_2014_10_10_45_635277102457617512.log.</code>

Wieder mal hat das Problem mit den unterschiedlichen Datumsformaten zu tun, der Server hatte deutsche Regionaleinstellungen.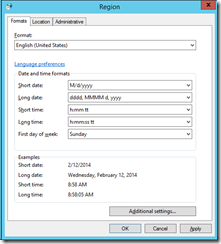 Diese müssen auf English (USA) geändert werden und schon läuft der Wizard ohne Probleme durch.

Gruß,
Tom