Update: Beta versions of all Server Products are now available, check out the link on the bottom. Added a link to the webcast.
Microsoft hold a live webcast today where they kicked off the new Office 15 wave.
Ballmer gave a quick overview of the latest announcements, including Surface, Windows Phones 8, Windows 8 and some Server products, before he gets going with the introduction of Office 2013.
He calls the new version of Microsoft Office the "most ambitious release of office" ever. It's was designed for cloud and touch enabled devices, a full featured version of Office 15 will also be available on ARM devices.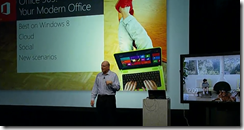 View the recorded webcast: http://www.microsoft.com/en-us/news/presskits/office/liveevent.aspx
Ballmer talked about Microsoft's recent acquisitions, namely Yammer and PPI. Yammer provides integration to all kind of social media for Office 15 client and Server products. PPI build huge, high definition displays which could be great for meetings and collaboration.
One of the most important points Ballmer makes is the ability of ink and touch support in every application, so that one can take digital annotations through the new generation of hardware. It seems like a big effort to finally move away from pen and paper.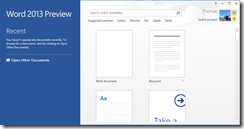 After that, Ballmer introduced Kirk Koenigsberger for some live demo of the product. Kirk is very excited too and shows some sneak peaks of what is to come with a focus on consumer usage. Office 15 is heavily integrated into Skydrive and stores all content in the cloud by default, if you install the Office preview you will soon notice that you can sign-in with you Windows Live ID directly into Office.
Office 15 features integration with social networking, multimedia, Skype and Lync offer presence information for the People Card (kind of an evolution from that thing we know from Outlook 2010).
Really neat is the "last location" feature, where a toast notification brings you back to the section of the document that you have been editing when you left one device and switched to another.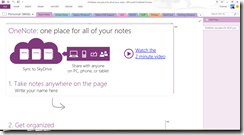 SharePoint 2013 comes with fully featured enterprise social networking, with mentions, #hashtags and like buttons all packed into a sleek, new design. A Newsfeed will provide the user with "Facebook" style updates from co-workers and friends, again using Yammer to aggregate news from different sources into one feed. Office documents and multimedia content can be previewed directly from the new timeline, the People Card quickly shows all contact information and presence status of the team members.
Try it now
The next generation of Office can be downloaded from Office.com.
Server Products
What is at least as exciting as the new version of Office client products is that the Server products are already listed on the website. Can't wait to get my hands dirty on that stuff…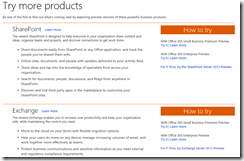 http://www.microsoft.com/office/preview/en/try-more-products
so that's it for now,
tom